Teddy Richardson: Professional Photographer and Teddy Bear
Dai boschi della Florida alle foreste della rete digitale, passando per la Grande Mela, Teddy Richardson si presenta all'universo del Fashion System come fotografo professionista e Teddy Bear (fucking Teddy Bear).
Teddy Richardson Photoshoot Behind The Scenes from Teddy Richardson on Vimeo.
A quanto pare un nuovo professionista si è affacciato sulla scena newyorkese, strizzando gli occhi di vetro a teneri orsacchiotti e cugini sfacciati, qualcosa di più alla periferia sud del mainstream che avanza a colpi di gossip e campagne promozionali ben assestate, e dalla scelta di nome, look e genere, ogni riferimento a irriverenti fotografi del fashion system, con spregiudicate manie di protagonismo, e la camicia a scacchi per tutte le stagioni … è voluto.
Indossiamo tutti una maschera, parecchi anche il pelo sullo stomaco (e nessuno scrupolo), ma Teddy Richardson ha deciso di non lesinare su niente, presentandosi come un fucking Teddy Bear professionista a caccia di clienti per campagne di moda e servizi glamour.
La storia che porta a New York City questo figlio degli anni '80, e dei cicli letargici della Florida, è ovviamente in sintonia con il messa in scena, con tanto di Canon T90 ricevuta da cucciolo, e giornate da professionista trascorse a fotografare belle signore, poco timide e vestite, come Kelsey Adams, protagonista del video dietro le quinte comparso on line.
Teddy was born in the woods of Central Florida in the late 1980?s, the exact date has been lost… well because bears aren't very good at keeping records. As a cub, he received his first camera, a Canon T90 that his father had stolen from a group of campers. Having grown tired of the tedious cycle of hunting and hibernating, Teddy packed up his belongings and moved to New York City to pursue his love of photography. Now an accomplished fashion photographer, Teddy spends his days photographing beautiful women. When asked what sets him apart from other photographers, his reply is simply, "I'm a fucking Teddy Bear."
Il tempo probabilmente ci svelerà qualcosa di più sull'identità e il 'duro lavoro' di Teddy Richardson, mentre le intenzioni e gli obiettivi sembrano eloquenti, quanto il fatto che ama il suo lavoro!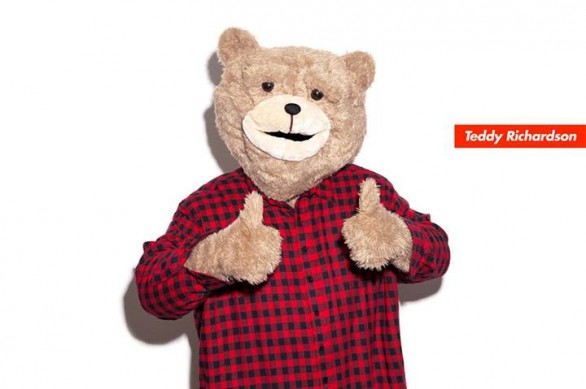 Via | Teddy Richardson – Facebook - Instagram