Mirror City in timelapse di Michael Shainblum
L'orizzonte ipnotico di Mirror City, per guardare la città da un punto di vista decisamente insolito, stimolando visione e riflessione, con il timelapse di Michael Shainblum.
Mirror City Timelapse from Michael Shainblum on Vimeo.
La città che non sta mai ferma, cambia a ritmo accelerato forma e tessuto urbano, dissolve le distanze del quotidiano in un caleidoscopio incessante di luci ed ombre, alterando il ritmo di visioni e percezioni, è la protagonista dell'orizzonte metropolitano di Mirror City,e il timelapse ipnotico e destabilizzante del dal fotografo e regista Michael Shainblum.
Un tour per lo sguardo dei nomadi metropolitani, attraverso le grandi metropoli americane di Chicago, San Francisco, San Diego, Las Vegas e Los Angeles, che ha richiesto cinque anni di esplorazioni, sperimentazioni, riprese e riflessioni, nel vero senso del termine, insieme a quattro mesi di arduo lavoro per 'specchiarsi' nelle città che viviamo a ritmo accelerato.
Uno specchio di geometrie, dimensioni e ritmi urbani, generato per alterare la percezione spazio temporale del vissuto e tessuto metropolitano, al battito della Butterfly di Bassnectar, che nasce dalle immagini riprese con un corredo di Canon e lenti (Canon EOS 5D Mark III, Canon EOS 5D Mark II, Canon EOS Rebel T2i; lenti 17-40 F / 4, 16-35 f/2.8, 20 F/1.8, 14 F/2.8, 70-200 F / 4, 70-200 f/2.8, 85 F/1.2, 85 F/1.8), con il supporto di Emotimo e Dynamic Perception, per le astrazioni del timelapse che state guardando.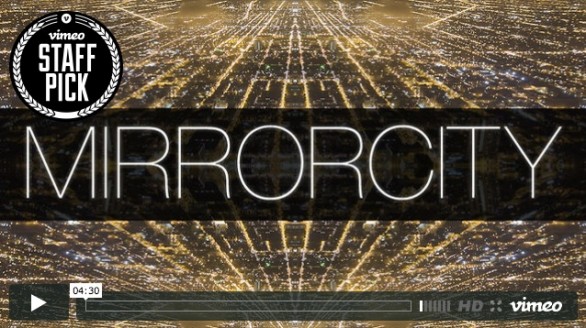 When I first started Mirror City, I wanted to create a video that was completely out of the norm. I wanted to showcase something unique and artistic, which takes Timelapse photography into a more abstract direction. Mirror City is a visual story through some of the great American cities: Chicago, San Francisco, San Diego, Las Vegas and Los Angeles.

These clips were all processed from their original form, into the kaleidoscopic visuals that you see in this video. Many people visit these large cities every day, and all of these places have been shot and filmed, but I wanted to emulate these urban landscapes in a way that nobody has even seen before. I wanted to put man-made geometric shapes, mixed with elements of color and movement to create less of a structured video, and more of a plethora of visual stimulation. 

The video starts off with simple mirrors and recognizable architecture, as the video progresses, so does the visual stimulation, showing the real abstraction of the piece. 
I have worked on this piece for an extremely long amount of time. I have spent time mirroring images and videos for the past five years, and I have been working on this specific piece for about four months. I felt it was time to combine Timelapse photography and the simplicity of a kaleidoscope, and create Mirror City.