David Bowie: viaggio fotografico con l'uomo delle stelle
Viaggio fotografico con l'uomo delle stelle e la camaleontica capacità di 'lavorare sulla sua immagine' elevandola a forma d'arte «for ever and ever»
David Bowie non ha bisogno dei riflettori per risplendere come il più luccicante degli outsiders, capace di inventare se stesso ad immagine e somiglianza del rock (ma anche il contrario), elevando le mille sfumature della natura umana a vette così spaziali, da sembrare la perfetta incarnazione dell'alieno caduto sulla terra, con tanto di occhi di colore e dimensione diversa.
L'esile e camalentico «uomo caduto sulla Terra» che ha sedotto la settima arte; ha rinnovato "Il videoclip" con il concept album di "Outside", anche nell'analisi semiotica arrivata in libreria con Paolo Peverini; ha influenzato la storia della fotografia contemporanea, a partire dal ritratto scattato da Masayoshi Sukita nel 1977, diventato la copertina del dodicesimo album di Bowie "Heroes" e icona «for ever and ever», come annunciato dal profetico testo scritto con Brian Eno e ricordato da mostre e film che raccolgono i frutti del sodalizio artistico con il fotografo e la fotografia, fino all'itinerante David Bowie is, partita dal Victoria and Albert Museum e arrivata al cinema, seguita da "Heroes", mentre la Vassie gallery di Amsterdam ospita i ritratti di Brian Duffy con "A Lad Insane - Duffy / Bowie" fino al 27 febbraio 2016.
DAVID BOWIE – Heroes: dall'album alla mostra di Masayoshi Sukita
Più di un disco, una fotografia … l'icona di un'epoca al ritmo di un sodalizio artistico che dura da un quarantennio in mostra alla ONO Arte di Bologna
L'uomo delle stelle che continua a riflettersi nell'immaginario immerso in viaggi intergalattici e musicali, dal David Bowie del 1969 a quello che prefigura sin dalle prime note "Blackstar", l'ultimo e atteso album di David Bowie, uscito nel giorno del suo 69 compleanno, con due singoli che preannunciano l'imminente addio come un requiem, a pochi giorni dall'annuncio della scomparsa che ha iniziato a circolare online tra smentite e conferme, nella notte di domenica 10 gennaio 2015.
Il portavoce dal profilo social ufficiale ha diffuso la notizia che «David se n'è andato in pace, circondato dalla sua famiglia dopo una coraggiosa battaglia durata 18 mesi contro il cancro», il figlio Duncan Jones (noto anche come Zowie Bowie) conferma su Twitter.
Very sorry and sad to say it's true. I'll be offline for a while. Love to all. pic.twitter.com/Kh2fq3tf9m

— Duncan Jones (@ManMadeMoon) 11 Gennaio 2016
Divisa dalla speranza di una smentita e ammirata dall'ennesimo picco della sua genialità performativa, toccata dal testamento artistico di un'opera d'arte vivente e morente, fino all'ultimo respiro della blackstar, con la consapevolezza di aver resistito all'adolescenza, amato i margini (soprattutto i miei) e attraversato ben più della dimensione spazio-temporale con la sua musica, ovunque si trovi ... su Marte, tra le stelle, in paradiso, libero... sono certa che non si sta annoiando ... e intraprendo questo viaggio fotografico con il David che non ci lascerà mai «for ever and ever».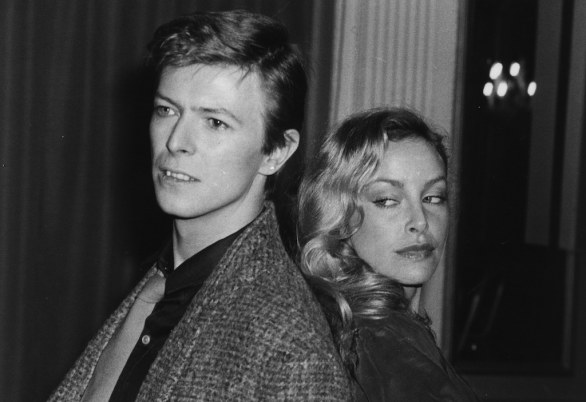 Un viaggio in compagnia della folgorante meteora spaziale dello Ziggy Stardust (The Rise and Fall of Ziggy Stardust and the Spiders from Mars) tour, del protagonista di tanti concerti, l'ospite del backstage del live dei The Clash allo Shea Stadium di New York, fotografato al fianco del bassista Paul Simono, dagli spalti del Live Aid al Wembley Stadium di Londra, con Iggy Pop, Lou Reed, Sydne Rome, o al Festival di Cannes.
Il duca bianco con mille volti e altrettanti talenti per un solo e unico Bowie, artefice del "Fantastic Voyage" edito da Arcana, arrivato in libreria per "decodificare" i testi di un viaggio musicale che si spinge sino a The Next Day, prima dell'alieno a fumetti edito da Nicola Pesce Editore con L'uomo delle stelle, i testi di Lorenzo Bianchi e i disegni di Veronica Veci. Il viaggio con David Bowie immortale!
"I don't know where I'm going from here but I promise it won' t be boring"

David Bowie
L'uomo delle stelle amato anche da chi è abituato a stare nello spazio, condividere le spettacolari vedute del pianeta Terra e cantare "Space Oddity" in assenza di gravità, come l'astronauta canadese Chris Hadfield.