Sony WPA 2011 Londra: il trionfo di Arcenillas e Chaskielberg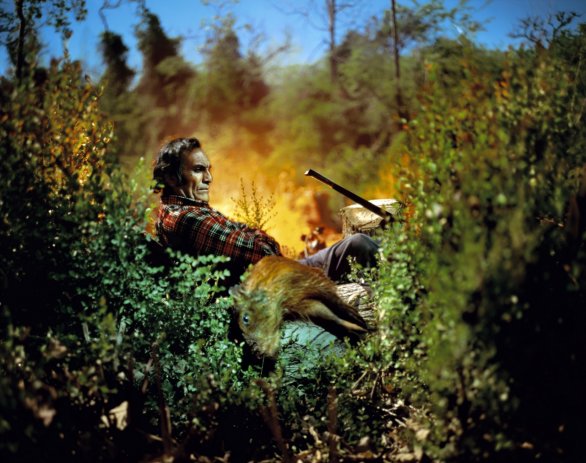 Ieri sera la premiazione all'Odeon di Londra dei Sony WPA 2011: dopo il salto trovate la lista completa dei vincitori. Purtroppo nessun italiano al primo posto, ma qualche buon piazzamento. Tommaso Bonaventura secondo classificato nella sezione Arts and Culture, terzo classificato Fabrizio Cestari nella sezione Lifestyle, terzo posto anche per Paolo Verzone nella categoria Portrait, e secondo posto per Guido Castagnoli nella sezione Landscape.
Javier Arcenillas, spagnolo, era finito in ben quattro shortlist: ha portato a casa due award, uno dei quali per un reportage davvero straordinario dal Messico e dal Guatemala - qui su El Mundo altri dettagli - Alejandro Chaskielberg, argentino, ha vinto l'Iris d'Or con l'immagine che vedete qui in alto intitolata The Hunter - si legge qualcosa sul Guardian se volete saperne di più - parte di una serie di scatti dedicati ai pescatori che vivono sul delta del fiume Paranà.
Premiato anche uno straordinario editore di libri di fotografia, Gerhard Steidl: se non lo conoscete vi consiglio un giro sul sito della casa editrice, lui è una leggenda vivente. Mood generale della serata: alcuni scelte della giuria condivisibilissime - Arcenillas e Chaskielberg - altre decisamente discutibili, ma è anche il bello di questo genere di cerimonie. L'appuntamento è per l'anno prossimo, sempre a Londra, per i Sony WPA 2012.
PHOTOJOURNALISM & DOCUMENTARY
Current Affairs
* Winner: Javier Arcenillas (Spain)
* 2nd: Robin Hammond (New Zealand) / Panos
* 3rd: Ahmad Masood, (Afghanistan) / Reuters
Contemporary Issues
* Winner: Javier Arcenillas (Spain)
* 2nd: Christian Lutz (Switzerland) / Agence VU
* 3rd: Balazs Gardi (Hungary) / basetrack.org
People
* Winner: Alejandro Chaskielberg (Argentina)/ Michael Hoppen Gallery
* 2nd: Denis Rouvre (France)
* 3rd: Lucia Herrero (Spain)
Sport
* Winner: Pavel Wolberg (Israel)
* 2nd: Javier Arcenillas (Spain)
* 3rd: Palmer + Pawel (United Kingdom)
Arts and Culture
* Winner: Amit Madheshiya (India)
* 2nd: Tommaso Bonaventura (Italy)
* 3rd: Mahesh Shantaram (India)
COMMERCIAL
Campaign
* Winner: Adam Hinton (United Kingdom) / Saatchi & Saatchi
* 2nd: Richard Bailey (United Kingdom)
* 3rd: Tomg Meng (China)
Travel
* Winner: Liz Loh-Taylor (Australia)
* 2nd: Javier Arcenillas (Spain)
* 3rd: Andrew McConnell (Ireland) / Panos
Lifestyle
* Winner: Saja Seus (Germany)
* 2nd: Frank Bayh & Steff Rosenberger-Ochs (Germany)
* 3rd: Fabrizio Cestari (Italy)
FINE ART
Architecture
* Winner: Alnis Stakle (Latvia)
* 2nd: Frank Meyl (Germany)
* 3rd: Frank Bayh & Steff Rosenberger-Ochs (Germany)
Portraiture
* Winner: Alain Willaume (France)/ Tendance Floue /Galerie Vu
* 2nd: David Kretschmer (Germany)
* 3rd: Paolo Verzone (Italy) / Agence VU
Landscape
* Winner: Florence Iff (Switzerland)
* 2nd: Guido Castagnoli (Italy) / Periscope Creative
* 3rd: Frank Day (United States)
Still Life
* Winner: Renhui Zhao (Singapore)
* 2nd: Peter Franck (Germany)
* 3rd: Charles Emerson (United Kingdom)
Conceptual
* Winner: Paul Gisbrecht (Germany)
* 2nd: Ana Cop (Canada)
* 3rd: Zhongyin Gao (China)