Instagram: in 24 ore Daniel Arnold vende stampe per 15 mila dollari
Instagram: da piattaforma di condivisione a galleria online per la vendita di fotografie, che a Daniel Arnold ha fruttato 15 mila dollari in 24 ore.
Introducing Instagram Direct from Instagram on Vimeo.
Alzi la mano chi è mai riuscito ad alzare un gruzzolo di 15 mila dollari (o più di 10mila euro) in un solo giorno, vendendo stampe delle proprie foto online.
A quanto pare è quello che è successo a Daniel Arnold, con il suo account di 1.300 foto di esplorazioni urbane realizzate e 22.000 iscritti online, ma solo 90,03 dollari nel suo conto in banca e i conti da pagare.
Uno squilibrio tale da spingere il fotografo di Brooklyn a fare una sorta di
regalo ai follower di Instagram (universo sempre vasto ed eclettico), nel giorno del suo trentaquattresimo compleanno, vendendo solo per 24 ore le stampe firmate delle sue foto al prezzo di 150 dollari l'una, premettendo che non sarebbe mai più stato più così basso.
Hello, I just turned 34 this second. For one day only I am selling 4×6 prints of whatever you want from my Instagram archive for $150 each. I swear I will never sell anything this cheap again. If you're interested, send a screenshot of the photo(s) of your choice to arnoldaniel@gmail.com (one d) and I will send a paypal invoice, followed by a signed print. Easy peasy. Happy my birthday. I love you.
L'esito dell'iniziativa, accompagnata da spiritosa inserzione, ha fruttato a Daniel Arnold 15 mila dollari di acquisti, con offerte sino a 1.000 dollari per stampe quotate dai 'mi piace'.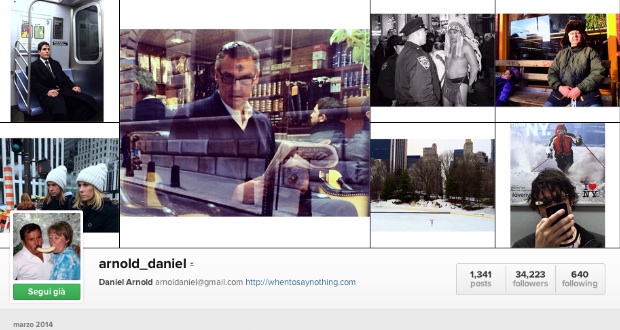 Acquisti che hanno razziato tra i soggetti più intriganti, fotografati nel corso dei tour urbani armato di iPhone e 35 mm, dal giovane Babbo Natale in mutande seduto in metropolitana, al signore distinto che legge il giornale insieme al suo riflesso in vetrina.
In ogni caso una somma tale da consentirgli di mangiare pane tostato e tre pasti al giorno per tutto febbraio, ma immagino anche tutto marzo.
"I've been eating toast three meals a day all February."
Via | Forbes