Firmware 1.12 per la Ricoh GR Digital II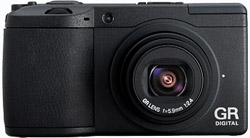 Ricoh ha rilasciato una nuova versione del firmware per la propria compatta di lusso GR Digital II, portandolo così alla versione 1.12.
L'aggiornamento introduce, insieme ad un paio di piccoli miglioramenti (di cui trovate la lista completa dopo il salto), una migliore qualità d'immagine per gli scatti a bassa risoluzione.
Il nuovo firmware, insieme alle note di rilascio e alle istruzioni di aggiornamento, è disponibile per il download sul sito della casa produttrice.

v1.12 revisions
* Improved an image quality in a small size (VGA etc.)
* Modified the following phenomena.
o If you operate the ADJ lever in the macro mode, display switching speed may change.
o f you operate the ADJ lever while compensating exposure, any keys will not work.
* When you exit a macro mode, the lens unit operating will become initialized in order to improve a focus accuracy.
Via | DPReview.com