I ritratti rinascimentali della generazione fast food di Rebecca Rütten
I ritratti della generazione fast food di Rebecca Rütten si ispirano alla pittura tardo rinascimentale ma profumano di pizza, hot dog, pollo fritto, tacos, Big Mac ...
Exhibition: Contemporary Pieces at Karussell 2014 from Becky Fuchs on Vimeo.
Compiendo un viaggio dalla pittura tardo rinascimentale alla fotografia ironicamente contemporanea, dalle sfumature erotiche e carismatiche della cultura delle classi medie e più basse dipinte allora, a quelle di oggi, Rebecca Rütten ha deciso di ritrarre la cultura del cibo junk food (cibo spazzatura), di oggi come avrebbero fatto i pittori olandesi e italiani.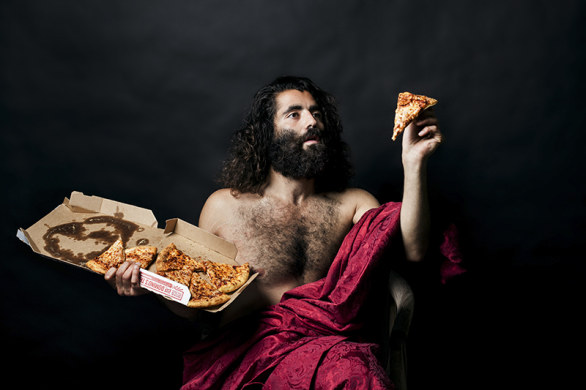 During the conception of "Contemporary Pieces, "I became enamored with the eroticism, presentation and charisma of paintings from the Renaissance Period. In the Late Renaissance, Italian and Dutch painters dealt with the middle and lower classes. In my opinion, Fast Food Culture represents these two social classes in the United States today. To eat healthy is expensive. However, one can buy large amounts of food at a fast food restaurant for a comparatively low price.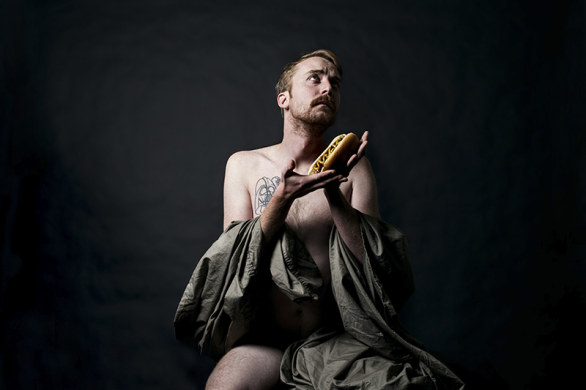 Servendosi di set minuziosi, una buona dose di ironia e la complicità di amici provvisti di tatuaggi e piercing che ne riportano i natali nell'era moderna cresciuta con la cosiddetta cultura fast food, la giovane artista e fotografa tedesca ha dato vita a Contemporary Pieces che profumano di pizza, hot dog, pollo fritto, tacos, Big Mac ...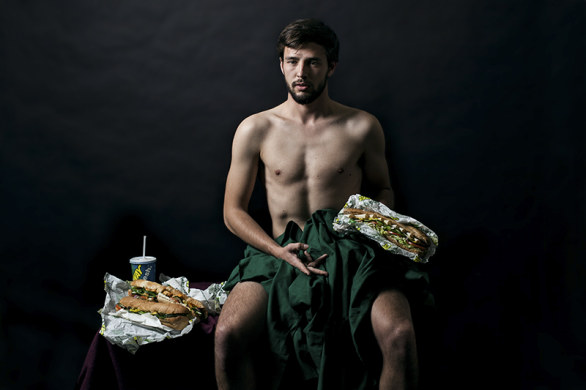 I studied books on the Renaissance from the University Library. By using laborers, gypsies and prostitutes for models, the portraits of Caravaggio create a different feeling. I asked friends to model for me and recreate the poses of the people in the paintings, with the new touches that I added. I like the fact that my friends in these photographs have tattoos and piercings. It underlines the concept that they are 'Children of the Modern Age,' having been brought up in the changing America, often defined by the culture of Fast Food.
Un progetto volutamente ironico per riflettere sulle sfumature più controverse della cultura che ci nutre, attraverso 5 ritratti e altrettanti Still Life che abbondano di quel cibo che la maggior parte degli amici della fotografa considera realizzato con ingredienti geneticamente modificati per un consumo di massa non commestibile che cambia il valore del cibo.



It was significant that many of my friends try to avoid Fast Food. In their eyes, Fast Food in the United States is comprised of genetically modified items that are designed only for mass consumption. To them, the food becomes a non-edible object and loses its value as being considered Food.

The result is a series of 5 Portraits and 5 Still Life photographs. The images have a definite sense of humor to them, which helps when talking about social issues with a variety of origins as these photographs contain. Like the old Masters this work is dealing with transience and beauty, but I clearly want to stay away from giving any directions since everybody is allowed to have an own interpretation.

The prints are 50 cm x 70 cm on matte paper with a golden frame.
Foto | Contemporary Pieces © Courtesy Rebecca Ru?tten