Nikon D700: una nuova full frame?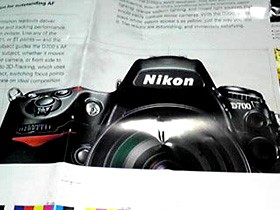 Mancano ancora alcuni mesi al prossimo Photokina ma sulla rete i rumors su possibili novità in casa Nikon si fanno fitti.
Da un forum cinese infatti sono state divulgate delle immagini che raffigurano delle brochure relative ad un nuovo modello di fotocamera reflex, la Nikon D700 (nella gallery è possibile vedere tutte le immagini).
Sul forum cinese sono presenti anche le specifiche complete di questa presunta fotocamera che riportiamo nel seguito del post:

Price (body only):
US $ 2999
Sensor:
36 x 23.9 mm CMOS sensor
FX format
RGB Color Filter Array
Built-in fixed low-pass filter
12.9 million total pixels
12.1 million effective pixels
3:2 aspect ratio
Image processor:
Nikon EXPEED
A/D conversion:
14 bit
Image sizes:
(FX format)
4256 x 2832 [L; 12.1 MP]
3184 x 2120 [M; 6.8 MP]
2128 x 1416 [S; 3.0 MP]
(DX format)
2784 x 1848 [L; 5.1 MP]
2080 x 1384 [M; 2.9 MP]
1392 x 920 [S; 1.3 MP]]
File formats:
NEF (12-bit or 14-bit, compressed or lossless compressed RAW)
NEF + JPEG
TIFF
JPEG (EXIF 2.21)
Lens mount:
Nikon F mount with AF coupling and AF contacts
No field of view crop (full-frame)
When using DX lenses / DX mode 1.5x FOV crop
Usable lenses:
Type G or D AF NIKKOR: All functions supported
DX AF NIKKOR: All functions supported except FX-format (36×24)/5:4 (30×24) image size
AF NIKKOR other than type G or D: All functions supported except 3D Color Matrix Metering II
AI-P NIKKOR: All functions supported except autofocus and 3D Color Matrix Metering II
Non-CPU AI NIKKOR: Can be used in exposure modes A and M; electronic rangefinder can be used if maximum aperture is f/5.6 or faster; Color Matrix Metering and aperture value display supported if user provides lens data
Auto Focus:
51 focus points (15 cross-type sensors)
Multi-CAM 3500FX
AF working range: -1 to +19 EV
Contrast Detect in Live View (Tripod) mode
Exposure modes:
Program Auto [P] with flexible program
Shutter-Priority Auto [S]
Aperture-Priority Auto [A]
Metering:
3D Color Matrix Metering II (type G and D lenses); color matrix metering II (other CPU lenses); color matrix metering (non-CPU lenses if user provides lens data; metering performed)
Center-weighted: Weight of 75% given to 8, 15, or 20 mm dia. circle in center of frame or weighting based on average of entire frame
Spot: Meters approx. 4 mm dia. circle (about 1.5% of frame) centered on selected focus point (on center focus point when non-CPU lens is used)
White balance:
Auto (1005-pixel CCD, image sensor)
Presets (seven) with fine tuning
Manual presets (four)
Color temperature in Kelvin (2500 - 10000 K, 31 steps)
White balance bracketing (2 to 9 frames, 10,20,30 MIRED steps)
Sensitivity:
Auto (200 - 6400)
Up to ISO 25600(expanded range)
Flash Sync Mode:
Front-curtain Sync (normal)
Red-Eye Reduction
Red-Eye Reduction with Slow Sync
Slow Sync
Rear-curtain Sync
Storage:
Compact Flash Type I or II
UDMA, Microdrive and FAT32 supported
Power:
Lithium-Ion EN-EL3e (7.4 V, 1500 mAh)
Included battery charger MH-18a
Optional AC adapter EH-5a
Optional MB-D10 battery pack / vertical grip
Vertical grip:
Optional MB-D10 battery pack / vertical grip
One Rechargeable Li-ion Battery EN-EL4a, EN-EL4 or EN-EL3e or eight R6/AA-size alkaline (LR6), Ni-MH (HR6), lithium (FR6) batteries, or nickel-manganese ZR6 batteries.
Come possiamo vedere si tratterebbe di una fotocamera full-frame che finalmente potrà riempire un gap sentito da molti nikonisti, ovvero la mancanza di una full-frame semi professionale pari, almeno a livello di posizionamento, alla 5D di Canon. Da notare inoltre la pagina in cui si parla delle quattro nuove lenti che uscirebbero a corredo della D700 dotate di Nano Crystal Coating. Come prevedibile le speculazioni sulla veridicità di queste notizie già inondano la rete, ma è da segnalare che in molti siti web specializzati le opinioni propendono a considerare queste informazioni come più che plausibii. Ringraziamo Kerruba per la pronta segnalazione.
Via | PhotographyBay.com | NikonRumors.com