Un uomo sta per morire nella foto tra etica e opportunismo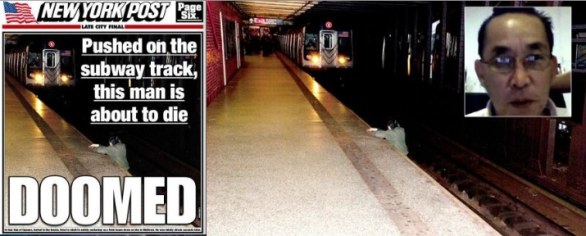 Questa foto apparsa sulla copertina del New York Post del 4 dicembre 2012, accompagnata da commento sensazionale, è stata scattata qualche secondo prima che la metropolitana di New York City, in arrivo sulla banchina della 49th, colpisse e uccidesse l'uomo finito sulle rotaie nel tentativo di calmare un mendicante molesto.
A renderla inquietante e controversa ovviamente, è la tragedia che annuncia e il modo nel quale è stata scattata dal fotografo freelance del New York Post, R. Umar Abbasi, in corsa verso il treno, tentando di richiamare l'attenzione del macchinista del convoglio con la luce del flash. L'intera storia è protagonista del video a seguire, ma anche di critiche e perplessità ...
Critiche, perplessità e opinioni contrariate e disgustate, dal comportamento del fotografo, del New York Post, del mendicante, degli altri testimoni e del servizio di sorveglianza, che arrivano prima di tutto dai commentatori della notizia sul sito del New York Post:

Wow! enough time to take a few pictures. Why didn't the person help? How many pictures did they take? 3-4 pictures. And nobody tried to help. Not one person. The pictures sure shows that much. What an age we live in when getting the picture is more important! I am appalled.

Yes, Mr. Han could had been saved. No need to jump on the tracks to save Mr. Han, 3-4 guys could had pull Mr. Han from the tracks. Why are all the people taking pictures and video and just standing there watching Mr Han get hit by a train?

I don't believe a word of that photographer crap. He didn't even try to help the guy get back on the platform. His first instinct was to take pictures, and that's exactly what he did, because that's what they do. He wasn't out to "warn" the conductor, what a lame excuse for not helping. Well, he got his pictures. Everyone "gasped" - and no one helped. The guy looks skinny, couldn't lift him up? Bull. And HE was actually trying to help THEM from the lunatic! RIP to the poor guy, left alone being his reward, another victim of another Doomberg thug in this supposed "safe city." Hope everyone on that platform is proud.

Inevitable consequence of living in a "me first" society where people only think of themselves and shun the idea of helping others.

How tasteless of the NY Post to publish such a grusome picture for this mans family to see. No one helped this man there were numerous videos and pictures being snapped, yet not one person tried to help save him. Disgusting.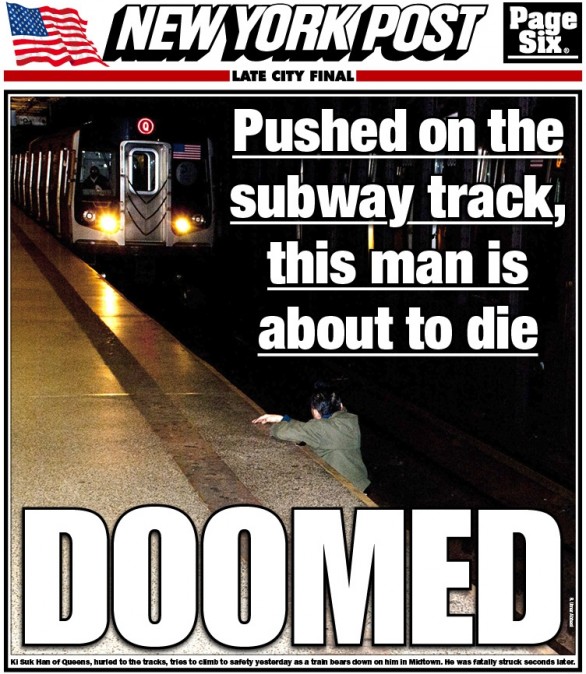 Si torna al confine tra etica e opportunismo, dove fotogiornalisti al cospetto di situazioni tragiche e impellenti, uomini giustiziati, bambini assediati da avvoltoio, caduti da palazzi o intrappolati dai detriti, solo per citare i casi più eclatanti e premiati, scatta prima ancora di intervenire (quando lo fa), per riflesso, indole, istinto di conservazione, deformazione professionale, assuefazione a certe visioni, opportunismo, consuetudine …
Via | New York Post