La poesia del volo di Gerard e Anne McGrath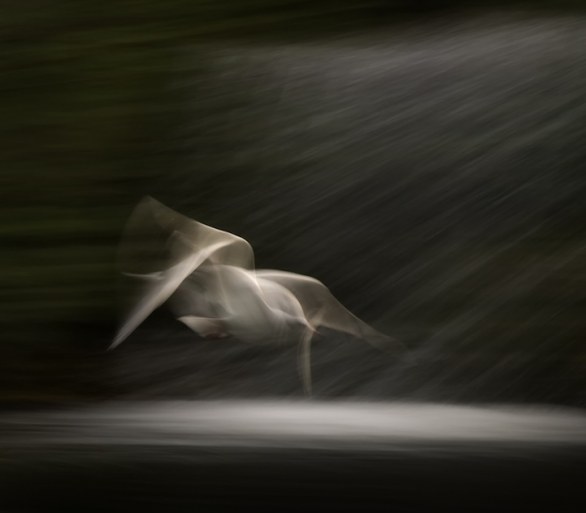 Iniziando a festeggiare con lo 'spirito del Natale' che trascende regali, dolci e simboli, e di certo non si trova in grotte, chiese o sotto gli abeti addobbati, oggi auguro a tutti voi di imbattervi nell'impalpabile che riempie l'anima di emozioni e le vostre immagini di forza, o solo poesia, come quella del volo, sperimentata da Gerard e Anne McGrath, una coppia di Dublino che ha reso la passione per la fotografia un elemento vitale del loro progetto coniugale.
Studi di uccelli e gabbiani colti con lunghe esposizioni, 'poco lavoro di post-produzione' e lo sguardo pronto a spingersi ai confini della visione, per lasciar emergere ritmi sinuosi, flussi di movimento, la leggerezza del volo e le emozioni di immagini ai limiti dell'astrazione.
We are a married couple from Dublin, Ireland, who met through a shared love of photography.
Photography is our past time, our outlet (what we do to keep sane !).

We are both self taught photographers, but have gained valuable knowledge and experience through attending workshops of Eamonn McCabe, John Blakemore, Thomas Joshua Cooper and Chris Killip over the years.

We started out originally with Black and White film, developing and printing our own. Married life and children overtook our spare time, but in recent years we have embraced digital photography, garnering our old skills and embracing new ones. Our images are our artistic expression and we hope you enjoy them.
"I cannot, never have been bound by any theory or doctrine, not even my own. Anything that excites me, for any reason, I will photograph: not searching for unusual subject matter, but making the commonplace unusual ....." Edward Weston
Via | StaceyThinx - 500px