From the Sea di Debora Schwedhelm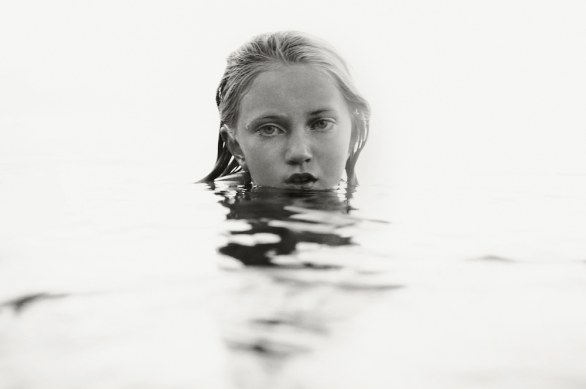 In una dimensione liquida e avvolgente che custodisce il segreto della vita e i misteri dell'animo, riflessi luccicanti, bagliori di realtà e torbide oscurità, l'obiettivo di Debora Schwedhelm fotografa i giochi dei figli, scovando elementi rassicuranti, immagini inaspettate e poetiche dell'infinito.
From the Sea, vincitore del 2012 PhotoNOLA Review Prize, con $ 1000 e una personale al New Orleans Foto Alliance, compie un viaggio dalle tenebre alla luce, dalle acque familiari di una piscina a quelle piene di tutto del mare, nell'obiettivo di questa ex infermiera Air Force, sposata con un ufficiale di marina che disinnesca ordigni esplosivi, madre di tre figli da crescere da una base all'altra, alla ricerca di luoghi, sensazioni ed elementi familiari.
My love for underwater photography began in my backyard pool, capturing the everyday riot of my children – swimming, playing with friends, relaxing in the sun, splashing, laughter, combat. But as I continued to photograph in the water, unexpected images began to surface. Shimmering fragments. Dark profiles. Murky truths. Whispering poetry. From the pool to rivers, lakes, springs, bay inlets and the expansive sea, this poetry speaks again and again. I am endlessly taken by surprise and I listen.

I am called to the water by something I cannot fully articulate, pulled in deeper and deeper with every visit. The images in this series aren't forced or posed; instead, each is it's own revelation – a milepost on an unexpected voyage to an unknowable destination. While the making of these photographs in the water is often chaotic, I am simultaneously offered a sense of home, comfort and joy.
Via | PhotoNOLA - Lenscratch