Time lag, Day Dreaming Magazine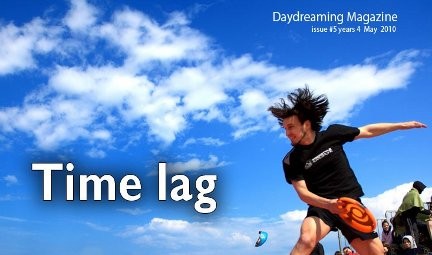 WORLD BEACH ULTIMATE CUP – WORLD FREESTYLE CHALLENGE di Sergio Bertolini e Roberto Mignanego
"E c'erano colori ovunque, frammenti di colore ovunque. E frisbee. Ovunque. Il prossimo anno il tema del Paganello sarà 'Amarcord'." [Lui Tasini]
Sergio Bertolini e Roberto Mignanego ritraggono il "Paganello" 2010, torneo mondiale di frisbee giunto quest'anno alla ventesima edizione nella città di Rimini.
PAINTING di Alex Roulette
Originario dell Ohio, residente a Brooklyn, NY, Roulette fotografa e fedelmente riproduce in materia pittorica con estrema precisione istanti e istanze di vita "on the road" di un'America giovane e sola, alla ricerca di qualcosa.

WORKS di Luca Bidoli
"Alla ricerca di una meraviglia possibile. Di una resistenza alla transitorietà. Si sta come in tralice, di traverso: è la prospettiva obliqua, da animale domestico, di chi sta in basso, oltre, a fondo, quella di Luca Bidoli. Questa surrealtà di indizi percepita a quattro zampe, acida, dai contorni netti come tagli, è congegnata per vuoti. […] Si fa materia pittorica, cromia fauve, sagoma di un tempo minimo. Di passaggio."
Simonetta Angelini
THE PINK AND BLUE PROJECT di Jeongmee Yoon
L'ultimo progetto-reportage di JeongMee Yoon, fotografa sudcoreana, ritrae l'infanzia circondata dai propri oggetti…
"The Pink and Blue Projects, explores the trends in cultural preferences and the differences in the tastes of children (and their parents) from diverse cultures, ethnic groups as well as gender socialization and identity. Today, with the effects of advertising on consumer preferences, pink and blue customs are a worldwide standard."
JeongMee Yoon
IPHONEOGRAFIA di Ale di Gangi
Fotografo e videomaker fiorentino in costante oscillazione tra digitale e analogico dovuta alla duplice fascinazione per il vintage (è ora in mostra a Firenze con "the possibile exhibition" per sole Polaroid) e per le tecnoavanguardie: come le immagini trattate con le varie applicazioni permesse da iPhone, il trend del momento, al quale questo servizio è dedicato.
Via | DDMagazine