National Geographic Traveler Photo Contest 2013 - I vincitori
Festeggiando i suoi primi 25 anni con 15.000 fotografie arrivate da tutto il mondo in tre mesi, la giuria del National Geographic Travel Photo Contest ha appena proclamato i suoi vincitori.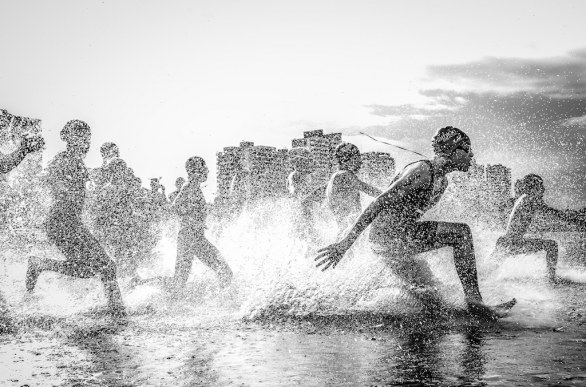 Primo posto - Dig me river by Wagner Araujo/National Geographic Traveler Photo Contest
Freschi di nomina, ecco quindi i vincitori di ogni categoria del National Geographic Travel Photo Contest 2013, atteso da appassionati di viaggi e natura, a partire al primo, "Dig me river" di Wagner Araujo, che rinfresca lo sguardo come ha fatto con l'obiettivo del fotografo.
Tra spruzzi di luce argentea capaci di mettere in moto anche lo sguardo più pigro, ci possiamo concedere un tuffo nel Rio Negro della Manaus amazzonica, tra i concorrenti del campionato brasiliano di Aquathlon, e quel mix di nuoto e corsa pieno di energia, catturato da Wagner Araujo con i palazzi della città sullo sfondo, bagnando anche la macchina fotografica.
I was in Manaus, Amazonas, during the Brazilian Aquathlon (swimming and running) championship. I photographed it from the water and my lens got completely wet, but there was so much energy in these boys that I just didn't worry about that.
Per consolarlo degli eventuali danni, comunque, oltre alla soddisfazione di aver battuto tutti, e l'onore di aver vinto il primo premo, per Araujo c'è anche un bel viaggio di dieci giorni per due alle Galápagos, a bordo del National Geographic Endeavour sulle orme di Charles Darwin, parte della National GeographicExpeditions. No dico!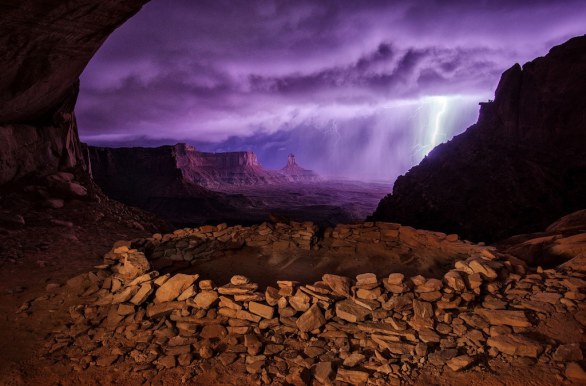 Secondo Posto - Thunderstorm at False Kiva by Max Seigal/National Geographic Traveler Photo Contest
I hiked out to these ruins at night hoping to photograph them with the Milky Way, but instead a thunderstorm rolled through, creating this dramatic image. 
Il secondo posto, e un workshop fotografico nell'amena Santa Fe, vanno invece a "Thunderstorm in False Kiva" di Max Seigal, e lo scatto del paesaggio quasi alieno, colto durante una notte tempestosa nel Gran Canyon National Park, da una delle grotte scavate nelle imponenti pareti rocciose, che ospitano i resti dei kiva indiani, insieme a quelli di una civiltà che conserva la sua magia ancestrale tra la polvere del deserto e la maestosità della natura.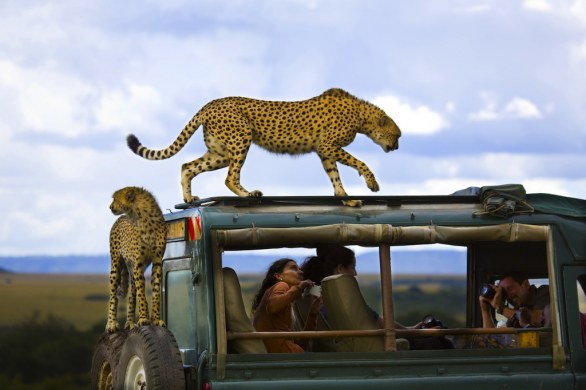 Terzo posto - Say cheese by Yanai Bonneh/National Geographic Traveler Photo Contest

Cheetahs jumped on the vehicle of tourists in Masai Mara national park, Kenya.
Il terzo posto lo hanno conquistato i curiosi ghepardi del Masai Mara National Park, insieme all'attenzione degli obiettivi dei turisti durante un Safari in Kenya, protagonisti dello scatto "Say Cheese" realizzato da Yanai Bonneh.
Un bel parimerito va agli altri sette vincitori del concorso firmato Nat Geo: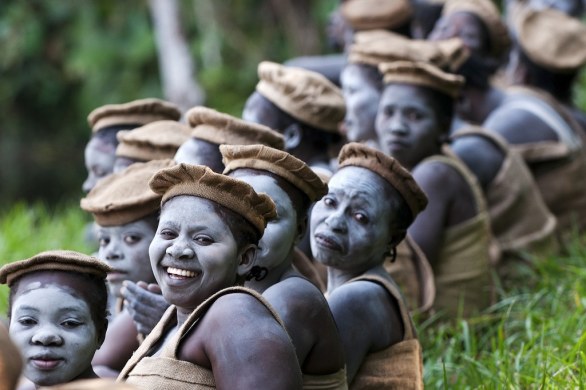 Pari merito - The TataHonda sect by Gergely Lantai-Csont/National Geographic Traveler Photo Contest


The photographer could get inside of an enclosed sect named Tatahonda in the Democratic Republic of the Congo. The ladies are preparing for their religious ceremony.
In questo caso andiamo nella Repubblica Democratica del Congo e nel gruppo chiuso delle Tatahonda nere dal volto coperto di bianco e identica veste di juta, che si preparano alla cerimonia religiosa.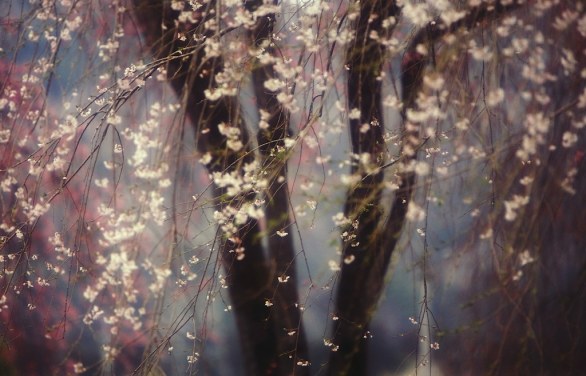 Pari merito - sakura by Hideyuki Katagiri/National Geographic Traveler Photo Contest


Cherry blossom is called Sakura in Japanese.Cherry blossom is Japanese symbolic flower.There are various kinds in a cherry tree and an especially old cherry tree has many kinds called Edo-Higan. The trees of the cherry tree exceeding hundreds of years are located in a line with a nebula this temple, and if spring comes every year,can looks at a powerful spectacle can do it. This photograph focused on Edo-Higan and photographed Beni-Sidare which is back together.
Questo scatto, come un Haiku, è dedicato alla millenaria tradizione dei risvegli primaverili annunciati dai sakura in fiore, presenti ormai in numerose varietà in tutto il mondo e tutta la struggente poetica di morte e rinnovamento incarnata in un petalo di ciliegio.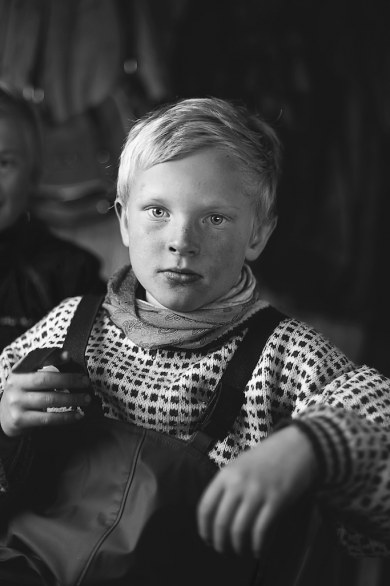 Pari merito - Children of Reindeer by Michelle Schantz/National Geographic Traveler Photo Contest


Mikael Ánde, a child of Sámi reindeer herders, takes a break indoors after a long, cold day of rounding up the animals for vaccinations and slaughter. Children of reindeer herders learn to handle these animals and the land they thrive in from infancy - young Mikael here knew far more about the ways of nature than I could ever hope to learn.
La foto in bianco e nero di Michelle Schantz ritrae Mikael Ánde, un giovanissimo allevatore norvegese di renne di Sámi, che riposa dopo una lunga e fredda giornata trascorsa a radunare i grossi animali per la vaccinazioni e la macellazione, e tutto quello che ha già imparato sulla natura e gli animali è nel suo sguardo.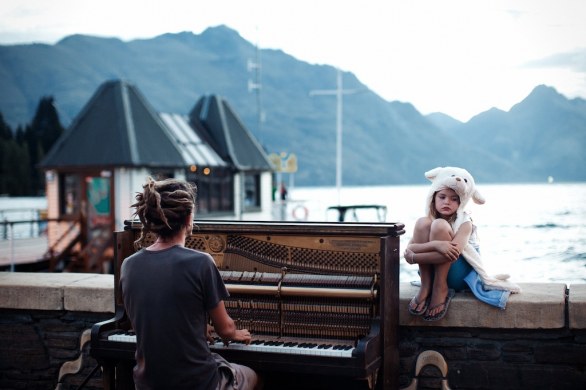 Pari merito - Piano play at sunset by Nikola Smernic/National Geographic Traveler Photo Contest


Streets of Queenstown, New Zealand at the end of one more day filled with adrenaline. Calming and doleful scene with piano sound in the background.
Una bambina assorta nei pensieri infantili, che scorrono sulle strade neo zelandesi di Queenstown, accarezzati dal caldo abbraccio d'orso che copre il capo, e la musica di un pianoforte che avviluppa la fine di una giornata, vibrano nello scatto di Nikola Smernic.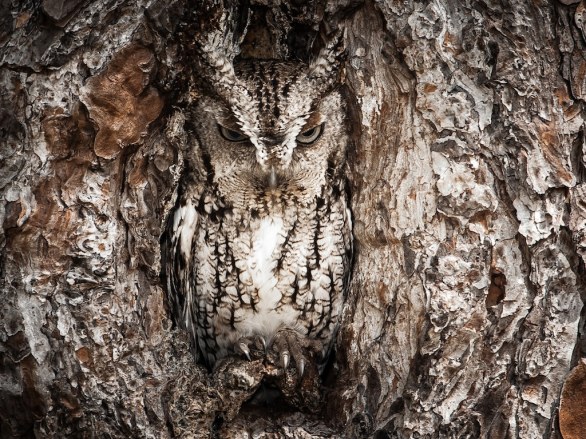 Pari merito - Portrait of an Eastern Screech Owl by Graham McGeorge/National Geographic Traveler Photo Contest


Masters of disguise. The Eastern Screech Owl is seen here doing what they do best. You better have a sharp eye to spot these little birds of prey. 
L'affascinante mimetismo dell'Assiolo americano orientale, pervade questo ritratto della natura di Graham McGeorge, capace di texture prodigiose, dalle piume alla corteccia.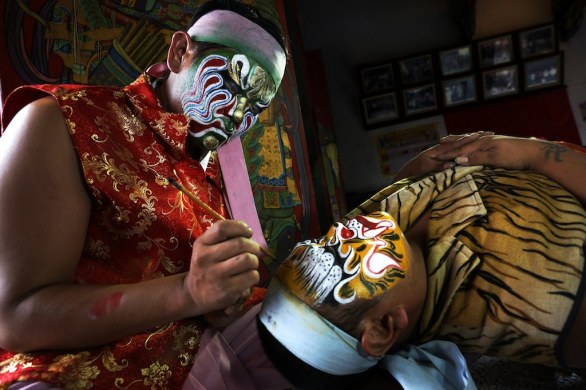 Pari merito - Guanjiang Shou by Chan Kwok Hung/National Geographic Traveler Photo Contest

Guanjiang Shou troupes are one of Taiwan most popular activities that may be seen all over Taiwan at traditional folk religion gatherings. With their fiercely painted faces, protruding fangs and powerful, choreographed performances, they are easily recognized, They may be described as underworld police or gods' bodyguards.
A guardia degli dei per qualcuno, degli inferi per altri, gli Guanjiang Shou di Taiwan dipingono i volti come maschere feroci da esibire nei loro coreografici rituali religiosi, con un impegno e una dedizione ritratti da Chan Kwok Hung.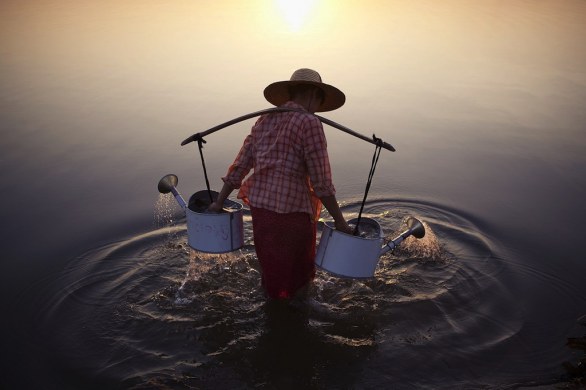 Pari merito - Lady in Water by Marcelo Salvador/National Geographic Traveler Photo Contest

A lady collects water in the river by a village in Bagan, Myanmar, 2013
Marcelo Salvador ci lascia immergere nel fiume di un villaggio di Bagan, con la sua Lady in Water che raccoglie l'acqua in due enormi annaffiatoi da trasportare sulle spalle, all'orizzonte di un universo liquido Birmano a dir poco desiderabile.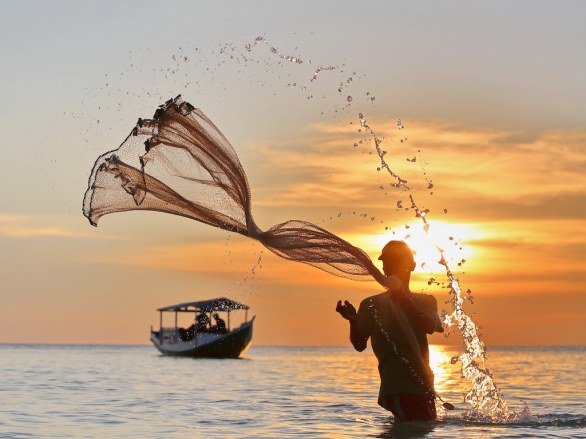 Viewers Choice - Another perspective of the day by Dody Kusuma/National Geographic Traveler Photo Contest

The fisherman at Bira Beach
"Another Perspective of the Day", e Il pescatore che lancia la rete nelle acque di Bira Beach, sul tramonto dorato Indonesiano, fotografato da Dody Kusuma, risulta invece lo scatto più votato dai lettori, ma il perché si intuisce. Ovviamente il consiglio è approfittare di tutte le altre fotografie in concorso per continuare questo viaggio.
Foto | © National Geographic Traveler Photo Contest
Via | National Geographic Traveler Photo Contest