We Are The Not Dead di Lalage Snow, i ritratti dei soldati prima, durante e dopo la guerra
We Are The Not Dead di Lalage Snow è un lavoro intenso e bello, la fotografa racconta i soldati dai loro sguardi prima, durante e dopo la guerra.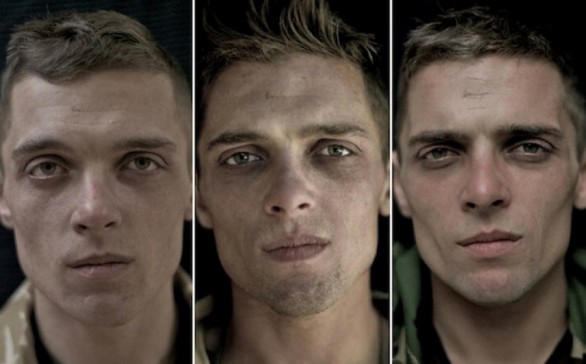 "We Are The Not Dead" di Lalage Snow è un lavoro toccante e molto bello che si collega benissimo all'articolo pubblicato ieri sul valore della fotografia. Le immagini che compongono il portfolio "We Are The Not Dead" sono crude, semplici e molto intense, la fotografa ha ritratto alcuni soldati britannici prima, durante e dopo la loro missione in Afghanistan.
Questo è uno di quei casi in cui potremmo dire che le foto parlano da sole, probabilmente in questo caso bastano le foto, le date e i luoghi per capire quello che abbiamo di fronte. Molto bello anche il titolo del progetto, We Are The Not Dead vuol dire noi siamo i non morti ed in effetti è vero, gli sguardi sono spenti, gli occhi dicono cose diverse nei tre ritratti, forse l'espressione più disperata è la terza, quando si torna a casa, alla vita di prima, ma non si è più quelli di prima.
Il progetto si compone di vari ritratti fatti al Primo Battaglione The Royal Regiment of Scotland, le tre fotografie ai soldati sono state fatte prima di partire per la guerra, dopo tre mesi che erano in Afghanistan e pochi giorni dopo che erano rientrati a casa. Alle foto sono state delle interviste, ne riportiamo solo una, quella di Chris MacGregor, un soldato di soli 24 anni intervistato prima, durante e dopo, come le fotografie.
11th March, Edinburgh: "Obviously I'll miss family but other than that I am going to miss my dogs more than anything. They are my de-stressers and keep me sane. I think I'll miss TV too though. I try not to think about the worst case scenario."

19th June, Compound 19, Nad Ali, after an IED incident: "Most people get used to being away from home but I find it hard. It's your fear that keeps you alive here. But I believe if it's going to happen, it's going to happen and theres nothing you can do about it. If the big man upstairs could do anything, there'd be no dead soldiers. They'd all be alive. It still hurts when you hear about a soldier dying. You think about what their families are going through. You ask what they died for and what we are achieving here. I am not sure any more. That Afghan soldier losing his legs just now… I don't know…."

28th August, Edinburgh, after being evacuated due to sustained knee injury from Iraq: "My legs just gave up. I think it was the weight – 135 pounds or something. I just had to accept, my body was telling me to give up as I had pushed it. I was telling it to go, it was telling me to stop. When squaddies come back they still have a lot of adrenaline and anger in them. I had to have anger management after Iraq. If I get like that now, I just go for a walk with the dogs. It is the best way to deal with it, instead of being all tense and ready to snap at folk. The first thing I did when I came back, appart from kissing and cuddling the misses and my bairn, was go for a massive walk with the dogs. I walked for miles and miles not caring where I stepped."
Lalage Snow con questo lavoro vuole onorare il lavoro di questi ragazzi ma soprattutto porre l'attenzione sull'impatto emotivo che devono affrontare e che meriterebbe un adeguato supporto psicologico. La fotografa ha dichiarato:
"Ho voluto rendere testimonianza di quanti giovani ritornino a casa come ombre di se stessi, segnati da profonde cicatrici psicologiche".
Potete ammirare il progetto completo nella sezione gallery del sito ufficiale di Lalage Snow.
Foto | Lalage Snow
Fonte | repubblica