La spassosa Stop-Motion barbuta di Ben Garvin realizzata con iPhone
Magic Beard e la spassosa e virale stop-motion barbuta di Ben Garvin, realizzata con iPhone e l'applicazione Stop Motion Studio.
La barba, si attesta come l'ultimo baluardo della mascolinità ai tempi della depilazione definitiva, ovviamente fatta eccezione per le donne barbute, e anche di parecchi progetti creativi, come questa divertente stop-motion che la taglia, realizzata da Ben Garvin.
Magica barbetta, domata dai denti di un pettine, anzi due, perfettamente sincronizzati e autosufficienti, a ritmo con l'estro e la danza del pelo, fucina di meraviglie e ritrovamenti, dai pastelli ai gambi di sedano, arruffata, indomabile, tagliata via, fino al finale con schiuma che vi strapperà una risata, nel caso non lo avesse fatto prima.

"never let a good beard go to waste."
Come afferma il fotoreporter di stanza in Minnesota non bisognerebbe mai sprecare della buona barba, e Magic Beard è l'avventura di mesi intrapresa prima del taglio, girata con iPhone 5 su un piccolo treppiede, utilizzando l'applicazione Stop Motion Studio (con equivalenti per Android), modificato con Adobe Premiere Pro, e messo a ritmo con la musica e The smiler (by Zonophone concert band, 1907).
I built this stop motion video over time, lots of time. I originally thought I'd sit down and shave my beard and make a video but, as I quickly realized, stop motion videos can't be made quickly. And I had more and more ideas as to how to make it fun, which made it take even longer. Shot mostly in my dining room, I set up my iPhone 5 on a little tripod and took a photo every 5 to 10 seconds.

When I showed it to my 7-year-old son he laughed so hard a small puddle appeared at his feet afterwards–a high bar!
Un processo e un successo virale che Ben Garvin condivide anche sul suo blog

Update 1 (9 hours after posting): This thing has gone sorta viral. My twitter feed has been a real joy today, as has facebook (the thing was shared more then 30 times off my page, more from there). The YouTube video view counter stopped at 301 for a long time, apparently common with videos going viral. KARE11 aired the thing on the 5pm news, I'll be interviewed on TV tomorrow (myfox29?s 11:30am show 'On the Fly'), City Pages and a local media blog wrote it up, Twins all-star Glen Perkins tweeted it, my mom called, friends from high school are liking stuff on Facebook for the first time and, most fantastically, I just heard a report that a 2-year-old pleaded 'MORE BEARD!' to his mother after the thing ended.
UPDATE 2 (36-hrs after): about 700,000 views ...
UPDATE 3 (2 days after posting): 1,500,000 views and counting. I'm in happy shock.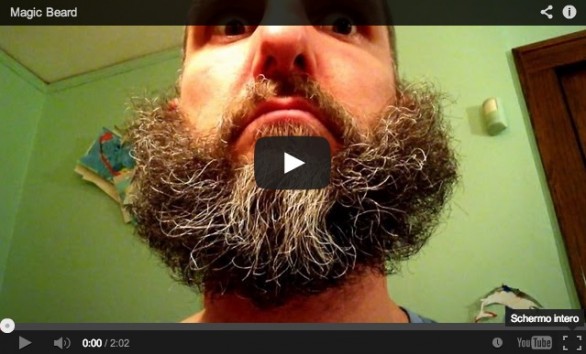 Via | Facebook - YouTube - Blog - Laughing Squid