Il tetto di stelle del Mauna Kea Observatories nel Timelapse di Sean Goebel
Uno sguardo ai cieli notturni sopra i telescopi provvisti di laser del Mauna Kea Observatories, con il Mauna Kea Heavens Timelapse di Sean Goebel.
Per salire sulle vette del mondo e godere panorami celesti e celestiali, ci vuole determinazione, un bel paio di polmoni, e spesso bombole d'ossigeno, salvo non vi concediate qualche minuto per salire sul Mauna Kea della più grande isola delle Hawaii, con il Timelapse realizzato da Sean Goebel aka geekyrocketguy.
Un vero paradiso in terra che si specchia nel cielo, a 14.000 piedi dal livello del mare di questa "The Big Island", raggiunto dagli obiettivi del giovane studente di astronomia dell'Università delle Hawaii, pronto a passare le rigide notti in piedi come osservatore, assistendo l'operatore incaricato di raccogliere dati dell'attività di ricognizione dei cieli del James Clerk Maxwell Telescope (JCMT).
Un lavoretto di supporto che ha permesso a Sean Goebel di aver cibo e alloggio gratis, utili dove tirano forti venti e generalmente le temperature sono intorno allo zero, insieme all'accesso a quello che cieli scuri e bassa umidità rendono il miglior sito astronomico dell'emisfero settentrionale, in ogni caso quello ideale per realizzare timelapse degli spettacolari cieli notturni sopra i quattro telescopi (Keck I e II, Gemini , Subaru) del Mauna Kea Observatories (MKO), provvisti di laser per tenere traccia delle turbolenze atmosferiche e controllare la messa a fuoco.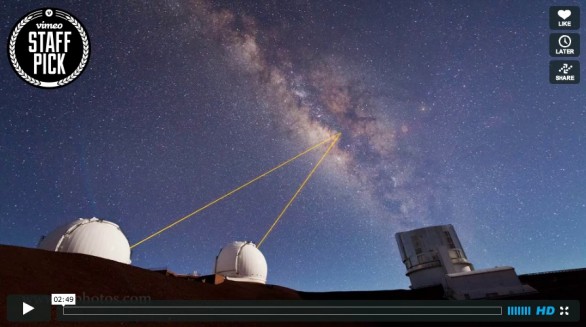 [The lasers] are used for adaptive optics. Just as waves of heat coming off pavement blur out the detail in faraway objects, winds in the atmosphere blur out fine detail in the stars/galaxies/whatever is being observed. This is the reason that stars twinkle. The laser is used to track this atmospheric turbulence, and one of the mirrors in the telescope bends hundreds of times per second in order to cancel out the blurring…

A typical laser pointer … is about 5 mW. That's five one-thousandths of a watt. Not a whole lot of power. And yet it's enough to blind airplane pilots. The lasers on the telescopes are in the range of 15-40 watts. The FAA calls a no-fly zone over the area when a laser is in use, and two people have to stand around outside in the freezing temperatures and watch for airplanes. Each of them has a kill switch to turn off the laser in case an airplane comes near.

Additionally, the telescope has to send its target list to Space Command ahead of time. Space Command then tells them not to use the laser at specific times, ostensibly to avoid blinding spy satellites. However, you could calculate the spy satellite orbits if you knew where they were at specific times, so Space Command also tells the telescope to not use the laser at random times when no satellites are overhead.
Un bel viaggio al ritmo di "All is Violent, All is Bright" by God is an Astronaut, ripreso in 7 notti ("tre notti consecutive nel mese di aprile e quattro notti durante l'estate del 2013"), con una Canon 5D Mark II e una vecchia Canon XT, insieme a obiettivi Rokinon f/1.4 24 mm e un Tokina 16-28mm f/2.8 sulla 5D, e un Tokina 11-16mm f/2.8 sulla XT, mentre una FAQ approfondisce il come, quando e perché.
Via | Flickr - Vimeo - Youtube - Facebook
Via | SLR Lounge
https://www.slrlounge.com/mauna-kea-heavens-space-lasers-milky-way-timelapse-sean-goebel